Se test af motorcykler m.m. her tvmc..
Service:http://www.route66cycles.de/
Dæk her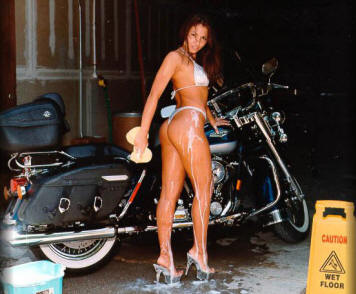 http://www.toptenlinks.com/cat.php/Autos:Parts:Manufacturers:Tires
http://www.motorcycletunes.com/2003_harley_road_king_classic.htm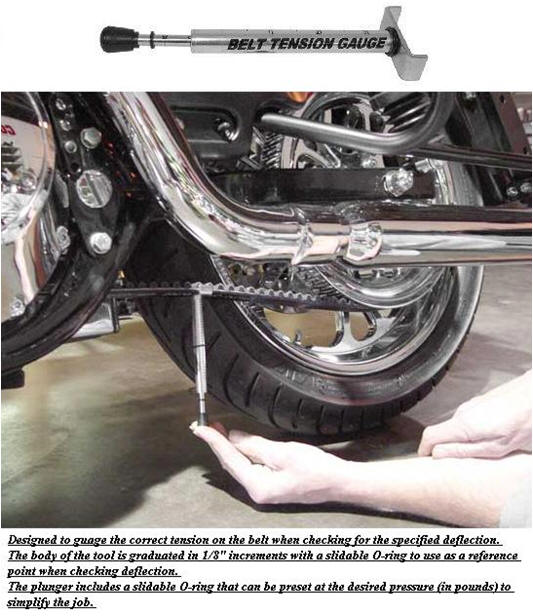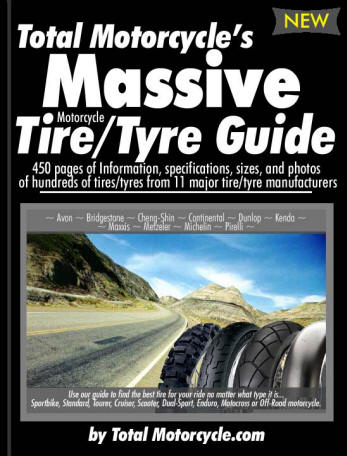 http://www.mynetmoto.com/
http://motorcyclebigbike.blogspot.com/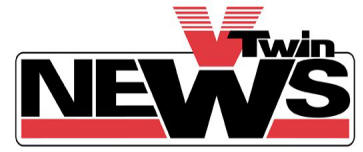 ---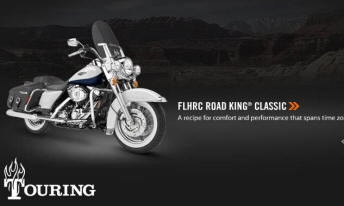 ---
TWIN CAM 88 - FATHEAD - SPECIFICATIONS

Dæktryk 36 / 40

psi

For - 2.5 bar

Bag 2.7 bar

Engine

Layout / Type

4 stroke, 45° V2 air cooled, 1450cc displacement

Bore (in) / Stroke (in)

3.75" / 4.00"

Max sustained engine speed

5500 rpm           Idle rpm: 1000  +/-50

Compression Ratio

8.8 - 9.0 to 1

Nominal Peak Torque @ rpm

86ft-lb @ 3500 rpm, touring mufflers 82 ft-lb. @3500 rpm, shorty duals

Bottom end construction

Straight press fit crank pin: inline knife and fork con rods: needle roller con rod bearings & right pinion side main: Timken left side sprocket shaft main bearings.

Fuel System

38.5mm CV Carb or Twin 38 mm plate, Sequential Port Electronic fuel Injection

Ignition System

Carb- Sequential, Single Fire, Map-N control
EFI - Sequential, Single Fire, Alpha-N control

Sensors

EFI & Carb - Crank Speed & Position, Cam Speed and Position, Throttle position, cyl. head temp, intake charge temp, barometric pres, MAP ( Carb only)

Primary Drive Ratio

EFI - 24t Engine Sprocket, 37t Clutch
Carb- 25t Engine Sprocket, 36t Clutch

Crankcase

Aluminum, Vertical split, High pressure die cast

Cylinders

Aluminum, High pressure die cast with cast in spiny lock cast iron liner. O-ring base seal, Liner thickness .247" (Evo.173")

Cylinder Head

Aluminum, Permanent Mold with 85cc bathtub combustion chamber, single 12mm spark plug

Pistons

3 ring, hypereutectic Aluminum with piston cooling jets

Oil System - pump

Twin gerotor, dual scavenge, crank mounted and driven internal oil pump, dry sump

Oil System - pressure

nominal 35psi @ 230°f, 2000 rpm

Oil System - filtration

10 micron, filtered between pump and engine.
(Evo, 30 micron between the pump and the oil tank)
Oil System - oil type,
change interval
HD360 20W-50
1000 mi initial,  then @ 5000 mile intervals

Engine Weight

165 lb.

Piston Weight

416gm (Evo=396.5gm)

Reciprocating Weight

1634.5 gm (Evo = 1501gm)

Piston Pin Diameter

.927" (Evo = .792")

Crank Pin Diameter

1.670" (Evo = 1.25")

Pinion shaft Main Bearing Diameter

1.650" (Evo = 1.25")

Bottom End Inertia

280 lb.-in-sec2   (Evo = 384 lb-in-sec2)

Cam System

Twin cams, chain driven with spring loaded tensioners.
lift .490"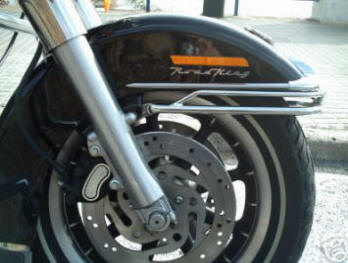 ---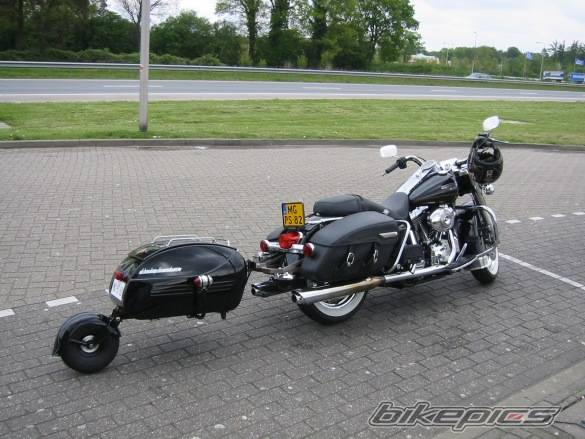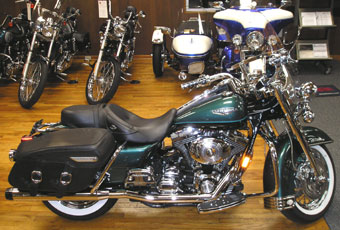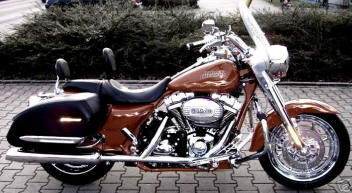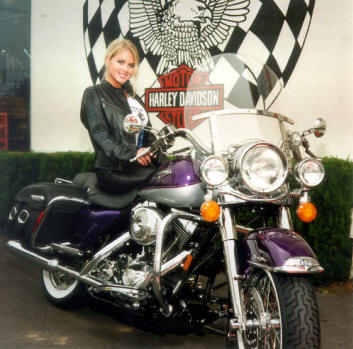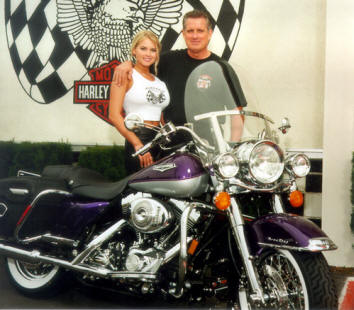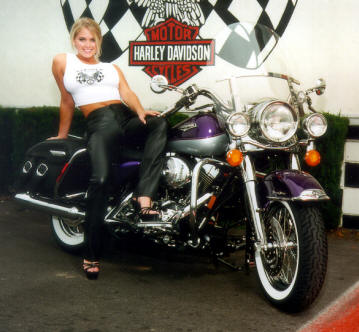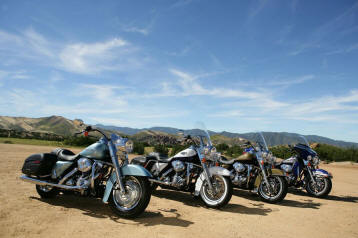 ---
Harley-Davidson Road Kings
Foto
http://www.heavydutycycles.com/heaven.htm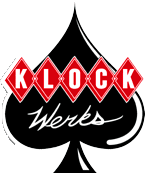 ---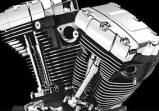 Big City Thunder Monster Harley Davidson Exhaust System
Big City Thunder's - Thunder Monster
By Steve Bohn
Hot Bike Magazine, July 2006
 
There's no question about it-one of the most modified systems on any Harley-Davidson is the exhaust system. New V-Twins originating from the factory or any of the other major OEMs need to meet stringent requirements set forth by the EPA. These requirements deal with issues such as emissions as well as sound levels. Anyone with a new Harley knows exactly how lackluster they can sound when fitted with a stock exhaust system. All too often riders rush headlong into tearing the stock pipes off, only to replace them with a set of poorly designed pipes while trying to achieve a particular exhaust note.
While the majority of companies producing exhaust systems spend countless hours on the dyno, computer, and R&D lab to ensure that their products squeeze every last bit of power from the motor, some companies let performance go by the wayside in the name of style or sound.
On the surface, an exhaust system seems like a very simple component attached to a motorcycle engine. Wrong! Exhaust pipes are one of the single most significant pieces bolted to an engine, since they can increase or decrease its performance. In the design process, pipe makers need to strike a delicate balance between a pipe that allows the engine to perform well, while at the same time creating an attractive piece that lends itself to the lines of the bike and also has the ability to create just the right sound. Having all of these factors in just the right combination should provide for a pipe that will satisfy the majority of riders. The problem is that, while performance can be measured on the dyno or by seat-of-your-pants testing, other issues involved in aesthetics or sound are subjective. A pipe that looks good to one guy doesn't do it for someone else. A particular sound emanating from the end of a pipe may be music to one rider's ear, while it's just too loud for the next guy.
A lot of folks go out and pick up a set of pipes they like the looks of and pull out the baffles to give them the sound they are looking for. The problem with doing that is performance suffers from the lack of backpressure inside the pipe. This is the same situation seen in many drag pipes. When you jump on the throttle in the lower rpm range, the motor falls on its face before being able to spin up properly and provide the power hidden inside. We see this over and over again on dyno charts where the torque and horsepower curves drop as opposed to climbing the chart.

So what's the answer? How do you get the look, sound, and performance you desire? This goal is not as elusive as you might think. To show how easy it is, we contacted Jim Maybeck and Gail Hamilton of Big City Thunder, located in Charlotte, NC. Over the past four-plus years, Jim and Gail have been working hard to bring a product to riders that allows them to enjoy the sound of a loud, rumbling pipe while still being able to take advantage of the power normally lost on straight pipes or ones with modified baffles.
Big City Thunder's latest incarnation is known as "Thunder Monsters." They are designed to give straight pipes the performance they lack while at the same time still providing the deep, throaty sound many riders are after. According to Jim, Thunder Monsters have a United States utility patent based on the performance increase and sound they create. While the particular sound is not patented in itself, the idea that the product increases performance while at the same time providing a particular sound was instrumental in theB patent process.
http://totalmotorcycle.com/welcome.htm